EDIT: The HealthVape SOOTHE now also comes in Jasmine flavor!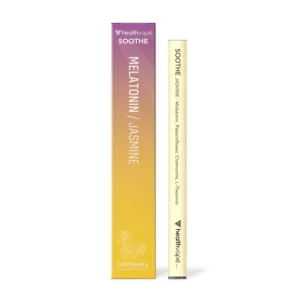 I tend to get anxiety and struggle with intrusive thoughts before bed while trying to sleep and this honestly eliminates that whole terrible portion of the night. I've tried regular melatonin supplements, and even was abusing Benadryl at one point. I think this might have worked better for me because of the other ingredients helping with the nighttime anxiety, so that the melatonin could do its job.
I didn't feel like I was getting knocked out by a medication, just like I was gradually feeling a satisfying sleepiness that made it easy to conk when I wanted to. Best of all, I didn't feel groggy the next day like I did (extremely) with Benadryl.
I usually used it about 5-10 times per night. There's been a few nights it didn't work as well, but there's so many variables day to day that can affect sleep that I can't really boil it down to the SOOTHE specifically. My first one lasted about a month and I've purchased another since.
Highlights:
Minty blend of melatonin, passionflower and more
No harmful ingredients like diacetyl, no fillers like vitamin E acetate, no sugars, and no calories
Vitamin-infused concentrates are delivered through a water-soluble carrier base
HealthVape inhalers are NOT marketed as "essential oil diffusers" and do not contain any oils